NEW EDEN Surface-Water Interpolation Model Version 3 Released!
Download: USGS Scientific Investigations Report 2020-5083 - V3 Model Code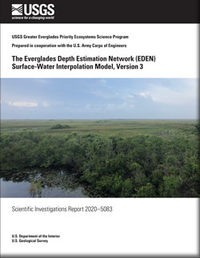 The EDEN team is excited to announce the latest version of the EDEN interpolation surface-water model, version 3 (V3). This version replaces the version 2 (V2) model which was released in 2011. Changes include updates to the interpolation model, the water-level gage network, and groundwater-level estimations. With these updates, users will find that levees and canals are better represented in the new interpolation scheme in V3.
The additional groundwater levels provide a realistic estimate of the saturated groundwater surface continuous with the surface-water surface for Water Conservation Areas 2A and 2B from 2000 to 2011. This continuous surface is a more accurate estimation of the spatial distribution of water in the hydrologic system than before, providing needed information for ecological studies in areas where depth to water table affects habitats.
The souce code for the latest version of the EDEN surface-water interpolation model is freely available through the official USGS Source Code Archive. The package contains the scripts that run the interpolations model to create the daily water surfaces and can be downloaded here.